Cebu's favorite chill-out lounging destination is back! Formo Restaurant and Lounge re-opened its doors last October 19, 2012 in a gilt-edged way. The place was packed and rightly so.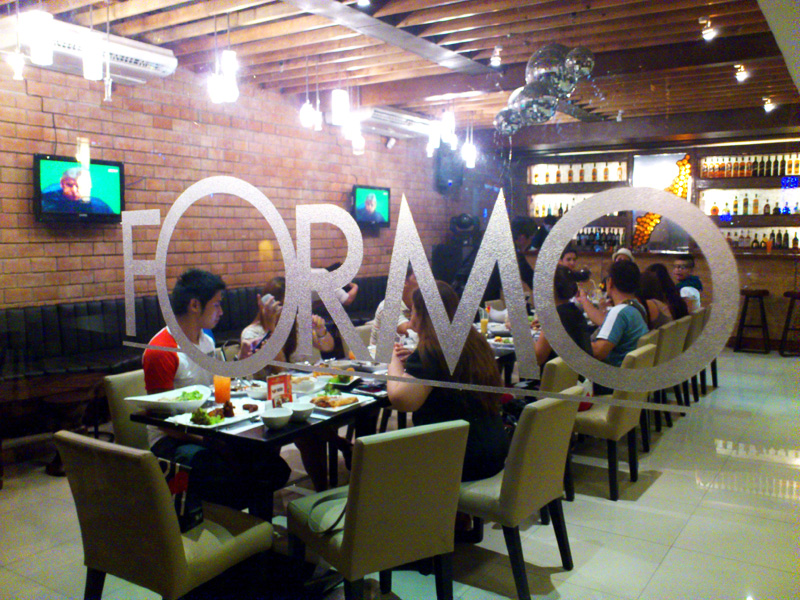 After going through a major metamorphosis, Formo gives us an experience unlike any other! The new Formo brings you to different heights with their new ultrachic interiors, new mouth-watering set of menu and a whole new hotter party vibes.
Formo's new look will take you to New York with their soho-chic inspired interiors designed by a play of shapes and textures and natural elements of wood and stone. Modern and classic materials like Capiz shells with the artsy and minimal furniture completes the urban NY bar immersion. This stellar revamp was the work of Hannah Lim and Melvin Banzon.
If their superb interiors are enough to make you party and chill out until the morning comes, their delectable menu will have you wanting for more. Bringing on board the kitchen is world-class Chef Miner del Mundo, giving you a combination of old-world charm and classy cuisine of the Continental with that of the crowd-pleasing modern American favorites of today. Have a taste of their Lamb Chops, Calamari Scampi, Lemon Cream Brulee- just to name a few- and be in gastronomic heaven.
And here's where it gets more awesome- their charged line-up of new themed nights will stir you and create a hotter vibe. Check out their new themes:
Laidback Mondays – Ambient and Indie House Hits
Amped-Up Tuesdays – Blues, Pop Rock, Reggae, Alternative Rock and Acoustic Hits
Sexy Wednesdays – Vocal & Tribal House and RnB Hits
Crazy Thursdays – House Hits Old
Old School Fridays – Hits from the 80's, 90's and 2000's Glam
Glam Saturdays – Disco and Dance Hits from the 70's, 80's and 90's
Chilled Sunday – Deep, Soul House Hits
If you loved the old Formo, you'll fall in love all over again and more wildly with the new Formo. Get immersed, indulge, and form a whole new experience like never before- only at Formo.