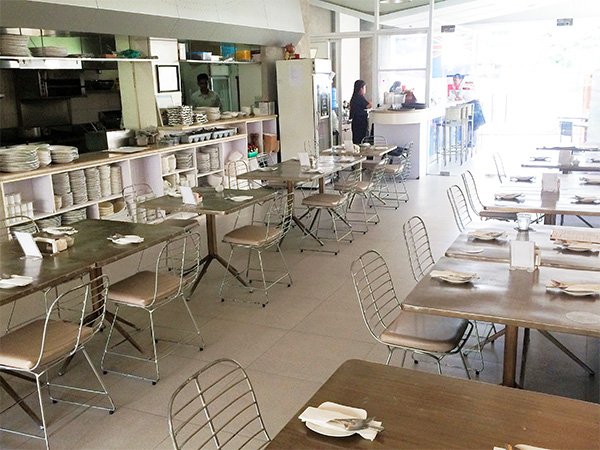 If you're a morning person and loves breakfast, I have a good news for you. Canvas Bistro, Cebu's favorite Australian bistro now serves breakfast. There are couple of breakfast spots in Cebu but what I love about Canvas Bistro's breakfast menu is they serve not the usual breakfast food that we typically find in other restaurants.
Chef's Toasted Muesli, Honey Toasted Oats, Roast Nuts, Dried Mango, Cranberries, Dates & Raisins served with yogurt, mango puree and low-fat milk . I love eating whole grains in the morning and this breakfast selection from Canvas Bistro is my favorite. Muesli is known to be one of healthy breakfast options because it is typically less in sugar and calories, if you're health conscious or on a diet, this is perfect for you.
Banana Pancake with Grilled Ham, Camembert Cheese and Scrambled Eggs. Two pieces fluffy pancakes cooked with banana slices and Camembert cheese chunks served with grilled ham, scrambled eggs and slices of grilled tomatoes. Canvas Bistro's twist to an ordinary pancake will make you wish you'll have it for breakfast everyday. The Camembert cheese really goes well with the bananas.
2 Egg Omelette filled with Fresh Corned Beef Hash & Cheese served with bread. I love egg, I love corned beef and I love cheese, put them all together and voila a perfect breakfast! Also available with Spinach and Mushroom.
Hearty Breakfast, 2 Eggs(poached, scrambled, fried or boiled), Hash Brown Potato, Fresh Aussie Beef Sausage, Grilled Bacon, Tomato & Saute Garlic Mushrooms served with Rice. For some people, especially in the Philippines, a breakfast or a meal is not complete without rice. Canvas Bistro's version of big breakfast is their answer to that.
Canvas Bistro has a breakfast menu for everyone, even for vegetarians.
A breakfast is not complete without some hot drinks.
If you get hungry after a morning jog or errands in Cebu Park District, make sure to try Canvas Bistro's breakfast options. They are located at Level 2, The Terraces, Ayala Center Cebu. Breakfast is served from 7:00AM to 10:30AM daily. For inquiries and reservations, call (032) 417 1978.