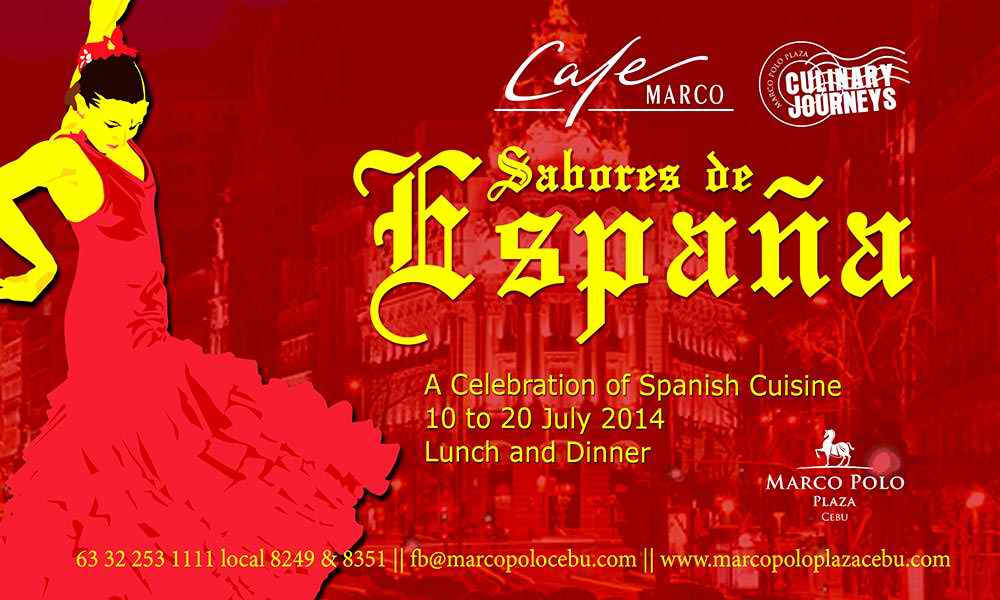 Dubbed a the best buffet in Cebu City, Cafe Marco at Marco Polo Plaza Cebu gives us Culinary Journey – Sabores de España. Enjoy the richness of Spanish cuisine at Cafe Marco from July 10 to 20 on top of local and international buffet spread available for only Php1099(lunch) and Php1345(dinner).
The dishes of Sabores de España are carefully prepared by Marco Polo Cebu's team of experts headed by Ms. Gema Pido, an authority in Cebu when it comes to Spanish cuisines. Savor the dishes such as Paella Valenciana, Jamon Serrano, Lengua Estofado and other delectable Spanish offerings.
An obvious favorite from the buffet spread is the Paella Valenciana, a rice dish featuring squids, shrimps, clams, pork and some vegetables. I thought the rice was quite dry but it didn't really bother me because the flavors of the other ingredients are still present.
Lengua Estofado con Setas is my favorite among the Spanish dishes on the buffet spread. Some people are grossed out by thought of eating tongue but Cafe Marco's version is soft and tender, you can't really tell that you are eating an ox tongue unless you read the label. The tenderness of the ox tongue is delicately served with rich mushroom gravy.
A Spanish buffet is not complete without dessert and I tried a lot. The dessert station includes Brazo de Mercedes, Bizcocho Borracho, Torones de Almendras and Orange Ice Cream. The Orange Ice Cream was a perfect dessert to end the night as the citrus flavors clean the palette.
For inquiries and reservations, call 253-1111 loc 8245 or email mpplaza@marcopolohotels.com. Visit the website at www.marcopoloplazacebu.com. For real time updates, like the Facebook page at facebook.com/marcopolocebu or follow on Twitter at @5StarInCebu