Have you seen CNN's Anthony Bourdain – Parts Unknown where he featured Jollibee? If not, here's a quick video.
So what did he eat at Jollibee? Spam Bites, Halo-Halo and the Amazing Aloha Burger. But wait, why don't have those here in the Philippines? Specially the Amazing Aloha Burger which I really miss, I can't remember anymore when was the last time I had a bite of this burger. It looks like I'm not the only one who craved for the Amazing Aloha Burger after watching Anthony Bourdain – Parts Unknown clip. Many blogged about it and even made a petition to bring the Amazing Aloha Burger back in the Philippines. Well, Jollibee listened.
Get ready to bite into two juicy burger patties, crispy bacon bits, cheese and lettuce, doused in honey mustard dressing, topped with a fresh slice of pineapple sandwiched between two soft buns because the Amazing Aloha Burger is back starting May 15 for a limited time only in all Jollibee stores nationwide.
But wait there's more, 35 Jollibee branches nationwide will giveaway free 100 Amazing Aloha Burgers starting 3PM on May 15, that's a total of 3,500 free Amazing Aloha Burgers for FREE!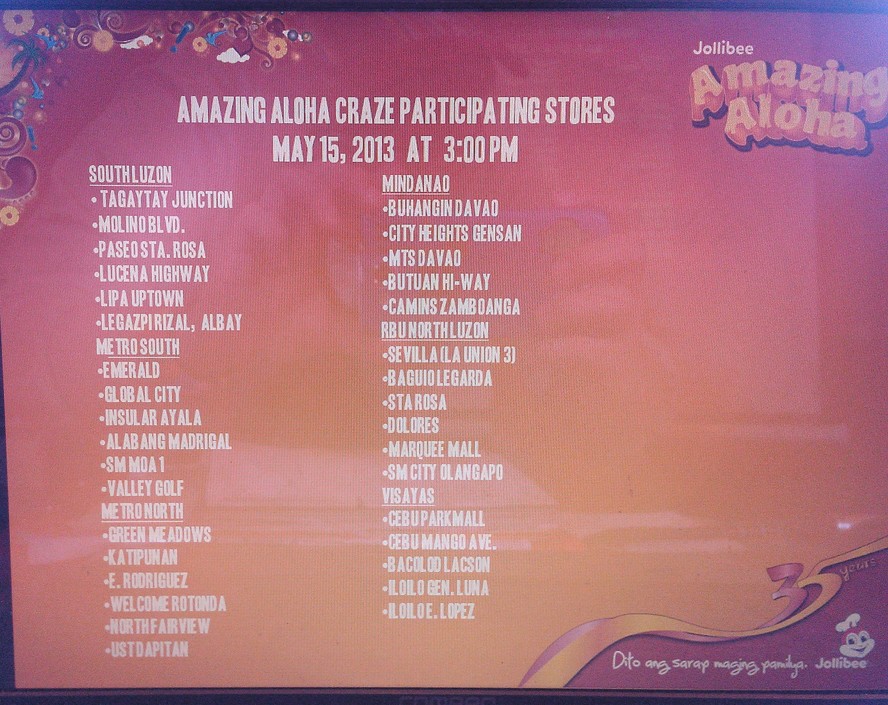 So what are you waiting for, head to Jollibee store nearest you today and experience the Amazing Aloha Burger that is simply amazing in every bite.