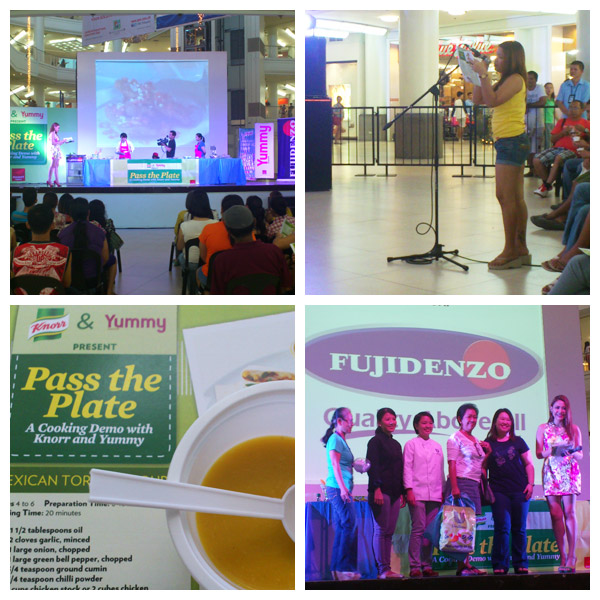 Cooking is part of our everyday lives, there are times that we want to cook a special dish for our family but too afraid to try because ingredients can be very expensive and food preparation can take a lot of time. Last November 24, Pass the Plate: A Cooking Demo with Knorr and Yummy sailed it's way to the Queen City of the South, Cebu City and showed Cebuanos that it is not expensive and it only takes few minutes to prepare a special dish for our love ones.
Shoppers got to watch a live cooking demo by Knorr's resident chef Chef Dianne dela Cruz and Yummy Magazine's contributing chef and food stylist Chef Katherine Jao. The two beautiful chefs impressed the crowd as they prepare five delectable recipes that can be easily cooked at home using affordable ingredients. Chef Dianne and Chef Katherine also shared some useful tips to the audience while they are cooking and did I mentioned everything is free? The audience also had a chance to win Knorr goodie bags by answering questions about the dishes. One lucky audience also won a Php2,500 worth of goodie bag from Knorr and Yummy Magazine.
Chef Dianne was first to cook and prepared Moringga-Squash Cream Soup, Binalot na Tilapia sa Pechay (Sinanglay) and, Cream Dory Fillets with Sofrito.
Chef Katherine prepared Mexican Tortilla Soup and Barbeque Chicken and Veggie Quesadilla.
For a copy of the recipes please visit http://www.knorrrecipes.com.ph/
***
Yummy Magazine is a publication of Summit Media and is available in newstands, bookstores and supermarkets nationwide. Be part of Yummy magazine's growing online community by visiting www.YUMMY.ph, liking us on Facebook via Facebook.com/yummymagazine, and following us on Twitter via Twitter.com/yummyph.